Tough Questions & Sealer-Based Obturation
The Loose Tooth & Guest Dr. Josette Camilleri
This show opens with another Tough Question, this time regarding one all parents eventually face: Should you pull out your child's loose tooth? Then Ruddle and Lisette are joined via Zoom by Dr. Josette Camilleri, esteemed colleague and researcher, who discusses the sometimes controversial, but ever-trending, sealer-based obturation techniques. The show ends with a new Close, "Aesop's Fables and Endodontics," because lessons of morality and endodontics should definitely go hand in hand.
Downloadable PDFs & Related Materials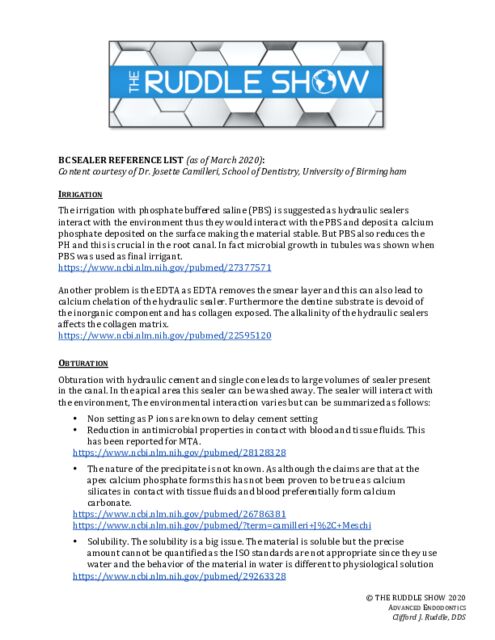 Ruddle Reference Listing re: BC Sealer
Feb 2020
BC Sealer Reference List (as of March 2020)...
Disclaimer
This transcript is made available by The Ruddle Show in an effort to share opinions and information, and as an added service. Since all show text has been transcribed by a third party, grammatical errors and/or misspellings may occur. As such, we encourage you to listen/watch the show whenever possible and use the transcript for your own general, personal information. Any reproduction of show content (visual, audio or written) is strictly forbidden.
Transcription Coming Soon!
Disclaimer
The content presented in this show is made available in an effort to share opinions and information. Note the opinions expressed by Dr. Cliff Ruddle are his opinions only and are based on over 40 years of endodontic practice and product development, direct personal observation, fellow colleague reports, and/or information gathered from online sources. Any opinions expressed by the hosts and/or guests reflect their opinions and are not necessarily the views of The Ruddle Show. While we have taken every precaution to ensure that the content of this material is both current and accurate, errors can occur. The Ruddle Show, Advanced Endodontics, and its hosts/guests assume no responsibility or liability for any errors or omissions. Any reproduction of show content is strictly forbidden.